"Father, may this place which has been known for great darkness, become known as a place where the light of Jesus shines most brightly — in salvation, deliverance, joy, and the transforming work of the Holy Spirit. May Your will be done, may Your kingdom come to Kamatapura for the glory of Your name." — Prayer in a red-light district church, Mumbai, India.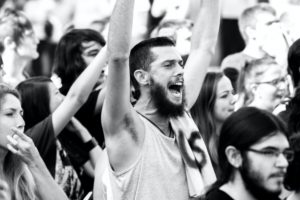 INTRODUCTION
From out of the darkness the child wandered into the back door of the Bombay Teen Challenge red-light district church following her mother. Petite, beautiful, and terribly thin, this 4-year-old daughter stood by the end of the back pew as her mother slipped into a seat with a man. Dressed in colorful clothes, little sandals, and with charcoal-dark eyes, the child had gotten into her mother's makeup like little girls everywhere, and her small hand had used it liberally.
But what took my breath away was this fragile daughter's demeanor and the attitude of her small body as she waited. Her posture, her position, the jaunty protrusion of her hip, and turned-out foot projected a chilling mirror image of her mother and the thousands of other women who nightly line Falkland Road waiting for "customers." The community of darkness was already grooming this little 4-year-old girl.
THE EFFECT OF OUR INDIVIDUALISTIC WORLDVIEW ON OUR UNDERSTANDING OF SPIRITUAL WARFARE
Most of us born into traditional American or Northern European cultures are enculturated from birth into a very strong value on the individual. As a result, we tend to be strongly individualistic, independent, and proud of it. The good and interest of the individual unquestioningly takes priority over the good and interests of the family, group, and community. This strongly held worldview colors the lens through which we view not only the world around us but Scripture, theology, the practice of our faith — and even our approach to spiritual warfare.
The strength of this cultural value is that those who hold it strongly believe in the value of one life, one person, one separate individual. Every person, every life matters as they do to God. The weakness of a strongly individualized view of the world is an under-appreciation or even blindness to the strength, connectivity, and influence of community and group systems as a context for everything that happens to an individual — whether for good or evil.
In Romans 5:12, Paul refers to sin entering the world (cosmos) through one individual (Adam) resulting in judgment and death. Similarly, God gave the gift of grace, justification, and life to the many through Jesus Christ (verses 15–17). While God's created world was good, the world marred by Adam's sin has become the creation of fallen humankind desperately in need of redemption. It includes religious, social, economic, political, legal, and kinship systems that grow out of the soil of Adam's disobedience and are integral parts of the "world" that God will judge (Romans 3:6). The effects of sin on humanity — including deception, rebellion, violence, exploitation, greed, lust, selfishness, and injustice — characterize these world systems. They are generally integrated and mutually reinforcing. This cosmos with its embedded systems, opposes God (John 15:18),resists Christ's redemptive work (John 7:7), and is under the control of the prince of darkness (1 John 5:19).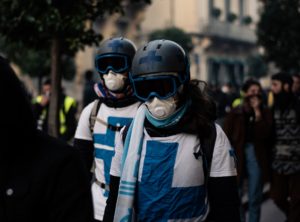 In the case of a red-light district, which is a glaring microcosm of the cosmos ruled by the evil one, extreme exploitation, injustice, spiritual darkness and demonic power characterize the local community's economic, social, religious, legal, and even kinship systems. Missional believers shaped by an individualistic worldview who attempt to set the captive (the individual) free can find themselves blindsided and suddenly forced to fight systemic spiritual battles they are ill equipped to fight. We must reckon with communities and systems corrupted and controlled by sinful forces.
Why was I so taken back by the little girl in the red-light district? Though she was only 4, the destructive complex network of social, economic, and spiritual systems in which she was embedded was already disturbingly apparent. When well-intentioned believers try to touch this child's life with Christ's love, they suddenly find themselves face to face with demonic forces that control the child through an insidious destructive system.Whether or not the child prays the sinner's prayer,life-changing victory requires spiritual warfare on both individual and systemic levels to break the chains that keep her physically, emotionally, and spiritually captive.
A PERSONAL LESSON IN SYSTEMIC SPIRITUAL WARFARE
Several years ago I was in a women's retreat during a time of intense intercessory prayer. There was an overwhelming sense of God's all-powerful presence and an accompanying prophetic word describing the might of the Lion of Judah. My prayers went immediately to the thousands of women and children within the shadow of Project Rescue-affiliated ministries who desperately need freedom from sexual slavery and new life through Jesus Christ.
God spoke to my heart reminding me that like a lion can cripple its prey by breaking its back and bringing it down, the mighty Lion of Judah is the only One who can break the back of the evil systems that control sexual exploitation in India and around the world. Human efforts alone cannot disable these destructive systems without the supernatural intervention of the King of kings who has all power and spiritual authority. It was not enough to pray for individuals to be released from slavery, but as a ministry team we must simultaneously pray that the Lion of Judah will break the back of these evil systems that control and perpetuate this injustice.
Several months later we were back in Mumbai with Devaraj and his ministry team during intercession in the red-light district outreach center. The Holy Spirit strongly urged me to share the challenge regarding strategic intercession for God to bring down the evil systems that control sexual slavery in that district. Suddenly staff members, who are transformed former madams, began to proclaim with tears that God must bring down the crushing systems of darkness they knew all too well. They knew exactly where the power brokers were centered in the city — and of course it was nowhere near the horrific violence and filth of the district — but in one of the most luxurious affluent areas in the city. As we all began to storm the gates of hell in the Spirit in a small room in the middle of Kamatapura, prostituted women on the street began to quietly knock at the door and enter asking for prayer. Since that day, we persevere in intercession for God to bring down the evil systems in that city so all in their grip can come to the One who died to give them new life.
PROCLAIMING CHRIST'S VICTORY OVER UNJUST SOCIAL STRUCTURES/PRACTICES
A CALL TO ACKNOWLEDGE THE REALITY OF THE BATTLE
We must recognize that proclaiming Christ's victory on behalf of His mission requires battling against collective spiritual authorities and evil powers. Some are visible, some invisible as referred to by the apostle Paul in Ephesians 6:12, "For our struggle is not against flesh and blood, but against the rulers, against the authorities, against the powers of this dark world and against the spiritual forces of evil in the heavenly realms." Our mission, God's mission, is that men and women bound by these powerful systems find freedom and deliverance to become strong men and women of God. Spiritual warfare is unavoidable for victory.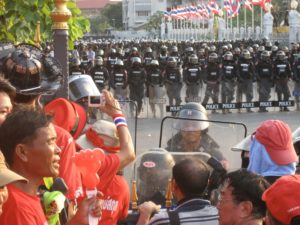 A CALL TO SPIRITUAL WARFARE AGAINST SYSTEMS WHILE EXTENDING CHRIST'S LOVE TO INDIVIDUALS ENSLAVED IN THE SYSTEM
Thankfully for the little girl in the red-light district church in Mumbai, the director of Bombay Teen Challenge (BTC) understands both her individual need for Jesus and the need to proclaim Christ's authority over evil systems for the sake of every person enslaved by them. In this biblical integration of intercession against evil structures with Christ's personal that-none-should-perish mission, Devaraj and his team do not practice selective compassion. They reach out boldly in love like Jesus to the whole community caught in Satan's destructive schemes — to madams, pimps, corrupt policemen, local government officials, customers, as well as to the women and children these people exploit. Their impact is evident. The strongest workers in the red-light district ministry today are former madams and their sons and daughters whom God delivered — body, mind, and spirit — years ago. Some have heard a pimp temporarily turn away brothel customers because the BTC outreach team was conducting a Bible study there for women hungry for God. Devaraj dares to proclaim the supremacy of Christ where Satan rules, and men, women, and children are finding Jesus there.
A CALL FOR SPIRIT-INSPIRED PROCLAMATORY PRAYERS
God's people must pray proclamatory prayers claiming Christ's victory over religious, economic, and political systems that perpetuate injustice. Systems are a tool of Satan to destroy not only individuals, but communities and generations of people around the world.
A pastor in Asia known as a man of prayer leads his congregation in daily, weekly, monthly, and annual cycles of fervent Pentecostal intercession. During one of the monthly all-night prayer meetings with thousands of believers, he began to publicly pray a prophetic prayer worthy of the Old Testament prophets. The pastor was not pleading with God. He was proclaiming Christ's authority through prayer as he discerned in the Spirit God's destiny for his city, nation, and continent.
"Father, may the pagan idols in this nation be brought down and melt into the seas. May the cross of Christ be proclaimed from north to south, from east to west. May this pagan continent become a Christian continent. "
His bold, proclamatory prayer was appropriate for the greatness of our omnipotent God and reminiscent of the prophetic ministry God spoke over Jeremiah. "I have put my words in your mouth. See, today I appoint you over nations and kingdoms to uproot and tear down, to destroy and overthrow, to build and to plant" (Jeremiah 1:9,10). The community of faith in the city has grown to over 10 percent, and the church is casting a shadow for Christ's kingdom across the continent. The God who does not change still uses men and women in the same prophetic way to pray proclamatory prayers that can change cities, nations, and even our 21st-century world.
A CALL FOR SPIRITUAL HUMILITY TO GROW IN SPIRITUAL WARFARE
Over time, men and women of God have walked in spiritual authority as they heard God's voice and responded in intercession and proclamation for cities, nations, and against systems of injustice. Some have been theologically sound; some have not. In some cases, we may observe in the same minister aspects of spiritual warfare on the corporate level that are sound and other areas of practice we question. But we must take caution to not throw the baby out with the bath water. Instead we must ask ourselves uncomfortable questions.
Our theology and doctrine may be sound — but what spiritual impact are we personally and corporately having on the tsunami of evil sweeping our cities and nation? Are we challenging the darkness of Satan in our cities because we are there engaging prophetically in the power of the Spirit? Or are we guilty of being doctrinally pure and spiritually powerless? Are we more experienced in judging how others are doing "spiritual warfare" than we are at doing "spiritual warfare" ourselves? Like the disciples who came back to Jesus having dismally failed in dealing with demonic power (at least they tried), we also have room for growth (Mark 9:17–29). May God grant His people of the Spirit the humility to learn from one another across denominations and affiliations. If our ears and hearts are open, God can teach us valuable lessons on spiritual warfare through other men and women of God, sometimes in unexpected places.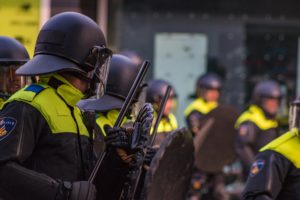 A CALL FOR PROPHETIC VOICES AGAINST INJUSTICE AND FOR GOD'S REDEMPTIVE JUSTICE
Ruth* and her husband Thomas* confront systems of evil every day. Six years ago God called them to minister in a red-light district of a very dark city. God's anointing was on them, and the ministry among prostituted women and their children began to grow quickly. Within 5 years, over 100 children of women in slavery were released into safe homes where they were receiving Jesus, being discipled to follow Him, receiving an education, and becoming young men and women of God. The couple had earned the confidence of many in the community who came to receive prayer and help. They began a Sunday service in the community for prostituted women to begin their spiritual journeys. These are miracles in a city of over 1 million people that has a long documented history of paganism and violent opposition to any Christian influence. The forces of evil have infiltrated every level of society that holds power, and they oppose every step of faith taken to challenge the darkness.
Ruth is an irrepressible courageous woman of intercession. She has repeatedly received court summons instigated by those who have a stake in seeing rescued young girls sent back into "the business." The healthier and happier the little girls become in their new lives in Christ, the greater their street value to pimps, madams, "fathers," corrupt policemen, and even desperate enslaved mothers. Unfortunately, powerful political, religious, and economic systems collaborating in their unjust cause control the red-light district.
On one occasion officials summoned Ruth to court because the director of the Woman and Child Welfare Society was attempting to close the ministry by bringing charges of child abuse. Ruth's family and colleagues covered her in intercessory prayer as she appeared in court to respond to this powerful woman. When called to testify, she sensed such a powerful anointing that she challenged the official, who had never visited the ministry homes, to come and see before pressing her case. With the public invitation and revelation that the woman had never seen the ministry she was accusing, she accepted Ruth's invitation. This woman of influence visited the ministry sites, saw the work, dropped the case, and ultimately became an advocate in an unjust system for the Christian ministry. Through anointed intercession coupled with bold Spirit-empowered action we can proclaim Christ's victory and disarm the enemy's schemes.
Until Jesus establishes His kingdom on earth, the spiritual warfare is constant and unrelenting through systems of injustice. On another occasion, Ruth and Thomas managed to convince a prostituted woman to release her beautiful 7-year-old-daughter in the brothel into the aftercare ministry home for children. Their goal is to get little girls out of harm's way before pimps sexually exploit them and force them into sex slavery by 11 and 12 years of age.
After much prayer and effort by Ruth and Thomas, this mother released her daughter into the couple's care where she received Christ's love, education, and safety. The child flourished. Tragically, under threats from those who control the system of injustice of which the mother was herself a victim, the mother returned to Ruth and Samuel and insisted that they release her daughter to her to return to the red light district. In spite of tearful appeals to this enslaved, prostituted woman, she took her daughter back into the world of darkness where men gang-raped the girl, and she died an unimaginable death. There are no words to adequately express the horror and carnage of Satan's systems of evil. The only consolation is that this child went to be with the Jesus she had learned to love and has a safe home forever with Him.
Because Ruth and Thomas are ministers of Christ's compassion and have learned to do spiritual warfare against forces of evil while loving individuals for whom Christ died, they chose to minister to the grief-stricken mother who was mentally and emotionally tormented by her daughter's death and her own part in the tragedy. They offered her Christ's love and forgiveness, knowing that she too can receive Christ's freedom, forgiveness, and redemption for a new life. The mother is now in the healing process so she can be with her daughter in heaven one day.
BEYOND WEEPING TO WARRING TO TRIUMPH
There is no more powerful image of intercession in the face of Satan's evil strategies against God's redemptive mission than that of Jesus agonizing in Gethsemane (Luke 22:39–46). But the battle was not complete in the Garden of intercession. Calvary's cross had to follow where the epic battle against Satan's schemes and systems were defeated on a criminal's cross. And in God's mysterious ways, an empty tomb will forever represent Jesus' resurrection life and victory over sin, death, and Satan. Jesus defeated every evil system and structure at Calvary along with the archenemy who devised them.
The success of the kingdom of darkness in our cities, nation, and world is inevitable — if God's people avoid, shirk, ignore, or timidly refuse to engage in spiritual battle against Satan's systemic schemes. But victory for the kingdom of God in our cities is divinely ordained if God's people discern His strategic purposes, intercede against systems of injustice, and boldly proclaim Christ's victory over evil. The Lord of the battle prophesied, "I will build my church and the gates (or schemes) of Hades will not overcome it" (Matthew 16:18). May His kingdom come.
* Names changed.