WHILE WE CANNOT LEAD PEOPLE TO CHRIST APART FROM SHARING THE GOSPEL MESSAGE, IT IS UNLIKELY OUR MESSAGE WILL RECEIVE SERIOUS CONSIDERATION IF OUR LIVES CONTRADICT WHAT WE PROCLAIM. HERE IS HOW TO KEEP EVANGELISM AND COMPASSION TOGETHER.
---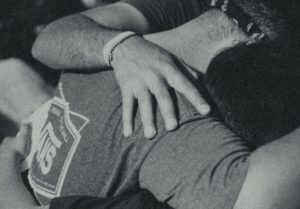 For people to come to a saving knowledge of Jesus, we must preach the gospel, the good news of Jesus Christ. God has spoken to us in words and given us a verbal message. It is imperative that we share those words of hope with the world (Colossians 1:5).
However, it is also vitally important that we conduct ourselves "in a manner worthy of the gospel of Christ" (Philippians 1:27). To be a follower of Jesus means more than mere mental assent to a list of dos and don'ts. It means our entire lives are radically reoriented because we have turned from lies to the truth, from darkness to light. In fact, it means we ourselves must be light (Matthew 5:13). Paul reminds us in 1 Thessalonians 1:3 that our work as Christ's followers is ultimately love-driven.
Between 1996 and 2006, the number of non-Christians viewing Christianity in a favorable light dropped by more than 20 percent, according to the book unChristian by David Kinnaman.1 Of the 24 million 16- to 29-year-olds in America, only about 500,000 (approximately 2 percent) view Christianity in a favorable light. This represents a radical departure from the Early Church, a Church that garnered praise from even its critics because of its love for outsiders, especially the poor and sick.
As Michael Green observes in his book, Evangelism in the Early Church: "The Church had qualities unparalleled in the ancient world. Nowhere else would you find slaves and masters, Jews and Gentiles, rich and poor, engaging in table fellowship and showing a real love for one another. That love flowed to outsiders, and in times of plague or disaster the Christians shone by means of their service to the communities in which they lived."
Green adds: "Nowadays the lifestyle of Christians is hard to distinguish from [unbelievers] …. Our need for wholeness … can only be met and sustained by love without strings attached. God loves like that, and the early Christians seem to have been so warmed by his love that it bound them together and flowed naturally from them."2
Of course, we must couple compassion with communication. Some claim the Christian calling is not at all about what we say but solely about our need to engage in loving action. Author Greg Garrett writes: "Our call as followers [of Jesus] is to try to walk in the world with the compassion of Christ, to demonstrate God's love with action, not words."3
While Garrett represents an extreme position, he does highlight the divide within the Church over how best to understand our task in the world. We must return to the teachings of Scripture to understand compassion from a biblical perspective. These foundations can keep us from losing sight of our evangelistic calling as we respond with Christ's love to the needs around us.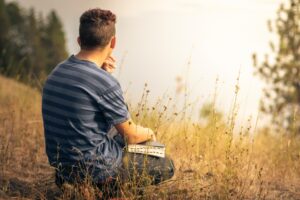 COMPASSION AND THE KINGDOM OF GOD
The Bible calls God's people to demonstrate compassion as a reflection of God's nature and kingdom. The Old Testament characterizes God's reign fundamentally in terms of righteousness and justice, declaring that these two qualities form the foundation of His throne (Psalms 89:14; 97:1,2). As such, God expects His people to embody these qualities. In the Old Testament, righteousness and justice relate especially to God's holy character and to the expectations of a holy people created in His image (Genesis 1:26,27; 1 Kings 10:9). Our holy God hates oppression and injustice, which most often victimize the poor and needy.
In the New Testament, Jesus' work on the cross makes salvation available to all people (Luke 18:25; John 3:5). Christ's followers are transformed to be like Jesus. This includes sharing His compassion for the world. To be saved is to be Kingdom-minded —and to embody the concerns of the King. Those who come to faith in Christ experience a radical reorientation of their lives, including a newfound concern for the poor.
We see this played out in a number of scenarios in Scripture. For example, Zacchaeus comes to faith in Jesus and gives half his possessions to the poor (Luke 19:8–10). Conversely, those who fail to make Jesus Lord and embody His concerns go away sad, their love of wealth proving a hindrance to Kingdom participation (Luke 18:23). Thus, our attitudes and priorities reveal Christ's influence in our lives.
A compassionate Church reflects the characteristics of the One we profess as our King. In showing compassion, our goal is not to usher in a utopian society — or even the kingdom of God. Only God brings about His kingdom. But by showing compassion, we give evidence that the King of Righteousness dwells among us and within us. How odd it would be to proclaim God as Lord and King — a God who demonstrates great concern for the poor (1 Samuel 2:8; Psalm 113:7) — and not also practice His priorities. When we disregard the King's concerns, we are not His faithful subjects.
A CREDIBLE WITNESS
The gospel is credible all by itself. It doesn't need us to make it credible. It is credible and authoritative because it has its origin in God (2 Peter 1:21). It is literally "God-breathed" (2 Timothy 3:16). Yet the conduct of the Christian community goes a long way in determining whether the credible gospel will get a fair hearing. If our lives don't line up with what we say, our message will not likely provoke serious thought.
Jesus says the Church's mandate is witnessing for Him (Acts 1:8). Proclamation is certainly a key part of that witness. However, the Greek word translated as "witnesses" in Acts 1:8 (μάρτυρες) is the same term from which we get the English word martyr. Witnessing to the life and ministry of Christ, then, involves a complete commitment of our words as well as our actions — and even our very lives.
Numerous passages in Scripture link faith in Jesus to the expectation of deeds reflective of that faith. Jesus tells Nicodemus: "Whoever lives by the truth comes into the light, so that it may be seen plainly that what they have done has been done in the sight of God" (John 3:21). Similarly Paul says those who believe in God are "careful to devote themselves to doing what is good" (Titus 3:8). Scripture doesn't allow for the separation of our calling to preach the gospel from our calling to live it out. How we live in the world has much to say about the degree to which we have truly heard and understood Jesus' words.
The ministry of Teen Challenge helped bring me to a saving knowledge of Christ following a 10-year drug addiction. I entered Teen Challenge as an atheist-leaning agnostic with serious doubts about the existence of an all-loving, all-powerful God. However, the love and kindness of an elderly couple played a major role in my coming to faith. Every other weekend, Paul and Norma opened their home to the entire Buffalo, N.Y., men's Teen Challenge program. They regularly hosted 20 to 30 former drug addicts and alcoholics in their home to share a meal and just hang out. Their love and compassion gave flesh to the daily sermons we heard, showing that the message they proclaimed was truly transformative.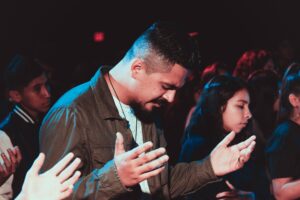 HOPE EMBODIED
A second way in which our compassion serves the mission of the Church is through the embodiment of hope. According to Galatians 6:10, we should do good to all people. As Christians serve one another, as well as outsiders, through acts of love and kindness, ministry to the poor and needy, and concern for the sick, we demonstrate the incomparable qualities that await us when Jesus returns and brings about the final resurrection.
The Church, as author Julian N. Hartt says, "is to show forth the eternal kingdom of God by precept and example."4 Thus, the Church should be a microcosm of the future to which God is leading us, a future of healing and wholeness in every area of life.
In the Book of Revelation, we read of the future that awaits God's people. "They will hunger no longer, nor thirst anymore; nor will the sun beat down on them, nor any heat; for the Lamb in the center of the throne will be their shepherd, and will guide them to springs of the water of life; and God will wipe every tear from their eyes" (Revelation 7:16,17, NASB).5
When the Church responds in the present to those who hunger and thirst and lack basic necessities for life, when we comfort those who mourn, we become a community that embodies the hope we proclaim.
Anyone who travels frequently has likely experienced at some point a free upgrade to first class. This happened to me recently on the second leg of a three-leg journey to Africa. As I settled into the luxurious and comfortable seat/bed, I thought to myself: This is really a bad thing!
I knew that after tasting the good life, so to speak, sitting in coach would be difficult. And indeed, on the final leg of the journey, a coach seat that had been perfectly acceptable to me previously seemed cramped and unsatisfactory.
This is precisely the idea behind embodied hope. As the Church, empowered by the Spirit, embodies the qualities of our heavenly destiny, we hold forth a taste of a truly first-class life — the abundant life Jesus promises (John 10:10). As unbelievers experience these dynamic qualities, it becomes increasingly difficult to return to a life apart from Christ.
COMPASSION AND EVANGELISM
Most errors relating to compassion arise from a faulty understanding of the biblical kingdom of God. Those who understand the Kingdom in entirely earthly terms often focus on Scripture's ethical and moral teachings, while neglecting aspects such as personal sin and judgment. Others, concerned only with the future aspect of God's kingdom, emphasize saving souls while overlooking other human needs.
Scripture refutes both lopsided views of the kingdom of God. Jesus taught the Kingdom as both a present and future reality (Matthew 7:21; Luke 11:20). So the first key to preventing compassion from eclipsing evangelism is maintaining the biblical balance of a present and future kingdom of God — the already and the not yet. By staying balanced, we can avoid overemphasizing the gospel's social and compassionate mandate. Likewise, we can avoid an entirely future view of the Kingdom that lacks contemporary relevance and leaves the Church seeming cold and calloused regarding present human suffering.
Judgment is a key feature of the future dimension of God's kingdom. When we downplay too much the future aspect of the Kingdom, God's coming judgment is often the first casualty of that imbalance. Without judgment, there can be no true justice. God is just because He is the Righteous Judge. In the context of our compassionate outreach, we must attribute injustice to sin. If we never get around to talking about sin and judgment, our compassion efforts cannot really be called Christian.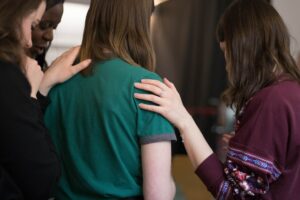 CONCLUSION
As a student in Teen Challenge, I closely watched Paul and Norma to see whether their actions lined up with their words. I remember wondering, What's in this for them? What are they getting out of this whole deal?
I wondered this because I had come out of a life in which relationships were primarily utilitarian. People tended to use one another. But as I watched Paul and Norma, I began to realize their sole motivation was love. They did what they did because they had a genuine love for people the rest of society had written off. I realized this Christian couple had something unfamiliar to me: a radical love for others that flowed from their love for God. Their loving actions included both sharing the gospel and sharing their possessions. And because their actions lined up with what we were being taught, I seriously considered the Bible's relevance and importance for my own life.
We should not view compassion as a platform or entry point for gaining people's trust. If compassion is not genuinely part of our life in Christ, our actions become disingenuous. We find ourselves in the awkward and unbiblical position of feigning love in order to preach about love — a position completely foreign to the life and ministry of Jesus. When it becomes obvious that our love was merely a means to an end (and it will become obvious if that is the case), we risk leaving the person worse off than they were before. Then, instead of simply being ignorant of the gospel, they may become openly hostile to it.
While we cannot lead people to Christ apart from sharing the gospel message, it is unlikely our message will receive serious consideration if our lives contradict what we proclaim. And so the apostle John instructs us, "Dear children, let us not love with words or speech but with actions and in truth" (1 John 3:18).
Apart from evangelism, compassion can only offer temporal comfort. But humanity needs more than comfort. It needs salvation. And we declare that salvation best when we preach the good news and engage in good deeds.6
NOTES
1. David Kinnaman, unChristian: What a New Generation Really Thinks About Christianity … And Why It Matters (Grand Rapids, Michigan: Baker Books, 2007).
2. Michael Green, Evangelism in the Early Church, (Grand Rapid, Michigan: Wm. B. Eerdmans Publishing, 2004), 20.
3. Greg Garrett, "God Commands Compassion, Not Evangelism," http://day1.org/3351-greg_garrett_god_commands_compassion_not_evangelism. Accessed February 18, 2014.
4. Julian N. Hartt, Toward a Theology of Evangelism (New York: Abingdon Press, 1955), 67.
5. Scripture quotations taken from the New American Standard Bible®, Copyright © 1960, 1962, 1963, 1968, 1971, 1972, 1973, 1975, 1977, 1995 by The Lockman Foundation. Used by permission (www.Lockman.org).
6. See Ron Sider, Good News and Good Works (Grand Rapids, Michigan: Baker Books, 1999).