The Bible often speaks about the Christian's duty to assist the poor and avoid harming them. Many churches take these Scriptures seriously and have established programs to help the poor. Some churches, however, may unintentionally be hurting the poor through initiatives intended to help them.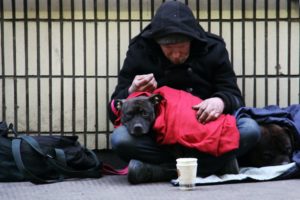 Consider a typical program in many congregations: the deacons' benevolence fund. A person in financial straits call the church asking for help. The secretary informs the deacons. These deacons then attempt to discern the supplicant's need. Is the story true? Is the request genuine? Will it be good stewardship to offer money? Or should they earmark the money for a different person with a different story?
To navigate these situations, the deacons may have established guidelines. Perhaps they have set a limit on the amount of money they will give to any one family. Maybe they will not assist the same family 2 months in a row, or they will restrict the use of funds (e.g., pay for rent, but not car repairs). One church might couple financial aid with a home visit. Another may ask for proof of need, such as an electricity cutoff notice from the utility company.
While such guidelines can be useful, this approach to community ministry may not be the best way to handle these needs. Occasionally it may do some good, but more often it applies a short-term, relief-oriented, material solution to a problem that requires a longer-term, more developmentally oriented, more relational, and holistic strategy. It may help at the level of a Band-Aid, but not truly fix the situation. Worse, it may simply enable dysfunction or irresponsibility.
Meanwhile, this reactive approach to community ministry is usually stressful for the deacons. They must act with limited information, leading to ambiguity over the wisdom of their decisions. They feel guilty or uncharitable saying no, yet may be unconvinced that saying yes is good stewardship of limited resources. Moreover, the interaction with the supplicant is by nature transactional, thus making any meaningful spiritual conversation nearly impossible.
Thankfully, better ways of serving the poor in our communities do exist. These are not easy to implement, but they are plausible and possible for any congregation of any size or setting.
DIAGNOSIS SHAPES PRESCRIPTION
More effective ministry among the needy begins with understanding the Bible's definition of poverty. God's original intention for the world was for peace in four fundamental relationships: relationship with God, self, others, and the created order. The Hebrew word shalom captures this idyllic state. Tragically, the Fall broke all four relationships. This is the root cause of persistent poverty.
The four foundational relationships are the building blocks for healthy life. When they are functioning properly, people are able to fulfill God's intentions for them by working and supporting their families with the fruits of their labor.
Poverty results from many factors: everything from disability or famine (broken relationship with Creation), to discrimination or injustice (broken relationship with others), to unwise choices or addictions (broken relationship with self or others), to false belief systems (broken relationship with God). Personal sins (e.g., laziness) might contribute, as can structural/systemic sins (e.g., greed that cuts people off from economic opportunities).
Poverty, as Christian scholar Bryant Myers put it, is "the absence of shalom in all its meanings." In the biblical worldview, poverty has spiritual, psychological, social, and physical dimensions. (For a detailed discussion of this, see When Helping Hurts: How to Alleviate Poverty Without Hurting the Poor… and Yourself by Brian Fikkert and Steve Corbett, Moody Press.) Understanding this biblical definition is critical for our poverty-fighting efforts for at least two reasons.
First, it aids us in diagnosis — which results in better prescriptions. If we understand poverty as merely material, then we will respond with a material solution. We will give money, food, or other commodities. To the extent poverty is present in any of its other forms, we will have missed the mark. We might end up paying rent for a person whose deeper need is for job training. We will supply groceries to a woman whose real need is rescue from domestic violence. Cash assistance to the homeless man may simply enable his further drug use; he needs spiritual and physical healing. Inaccurate diagnosis means ineffective prescriptions.
Second, when we realize the Bible sees poverty as a far broader concept than only material poverty, we who are not materially poor become appropriately humbled. We are able to eschew the subtle, semi-conscious feelings of superiority over the poor we often possess. We begin to recognize that although our bank balances may be in good order, our spiritual, emotional, or relational lives have flaws. We are, in our own ways, poor — even though we can meet all our material needs. This recognition begins to lower the wall between them and us and can help us avoid patronizing the (materially) poor.
FROM COMMODITIES TO RELATIONSHIPS
Acting from a material definition of poverty, much church-based community ministry ends up merely helping poor people manage their poverty rather than escape it. Our aid provides merely stopgap solutions, such as money to pay the rent this month. But will circumstances change sufficiently so the family will make next month's rent? We will not know without deeper exploration of the facts. We need to understand the underlying causes for the current emergency situation — which may in fact be a chronic condition. This requires a more relational and holistic approach.
One single mom might be short on rent despite working two jobs and being an excellent budgeter. Perhaps her problem is a slumlord that refuses to make needed repairs to her apartment and these have spiked her utility bill. Here, the church's most effective response might go beyond financial aid to include legal representation, repair work, and assistance in finding an alternative living situation.
Another single mom might be working, but her no-good, live-in boyfriend takes her paychecks and spends her money on alcohol, leaving her chronically short. Providing money in this situation may exacerbate it. Instead, counseling, emotional support, prayer, and real friendship with this woman to give her the courage to kick the man out offers long-term hope.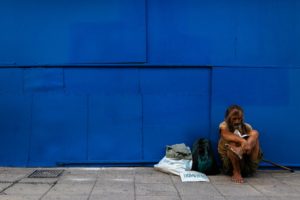 A third supplicant may be an immigrant who is chronically short on rent because his low-paying job simply is inadequate for meeting his housing costs. He needs a better job — and the English skills to acquire one. Here again, a one-time rent payment is not going to solve much. The man would be far better aided if the church rallied around him with language tutoring, skills training, and help finding higher-paying employment.
The rub here, of course, is that it is far easier to help the poor than to get to really know them. The hard truth is that most church-based community ministry focuses on commodities — giving people food, clothing, and money — rather than relationships, because the former approach is easier, safer, less messy, and less demanding of time and emotional energy.
Additionally, we sometimes lean toward the commodity-based approach because we have a misguided definition of success. Sometimes leaders want to be able to report to the congregation that they helped a large number of community families through the church's mercy ministry. In reality, of the 50 families they helped in a year, it is likely very few enjoyed any lasting benefit from the church's benevolence. And how many families have been meaningfully enfolded into the congregation. It would have been far more strategic for the benevolence efforts to be expended in a holistic manner through intensive work with just two families. But 50 is a more impressive sounding number than two. Somehow, we need to learn to resist that bigger-is-better mentality. And we need to commit to ensuring that our benevolence (disposition to do good) ends up being beneficent (producing actual good).
PRACTICAL IDEAS FOR MAKING THE TRANSITION
Moving from commodity-based benevolence to relational, holistic ministry is a process. Some churches start by taking small steps to add new elements to existing relief-oriented ministries to make them more relational. For example, a Cambridge, Massachusetts, church redesigned its semimonthly food and clothing ministry to encourage more conversation with clients. When the food bank is open on Saturday mornings, church volunteers run a short Breakfast Bible Club on-site. Moms visiting the center often have kids in tow. While the children spend 20 minutes enjoying a light breakfast, Bible lesson, and craft, food bank workers engage the moms in conversation over a cup of high-quality coffee. This affords opportunity to pray with clients and to gain deeper insights into their circumstances.
A congregation in the southwestern U.S. enhanced its food pantry with a new community garden. The garden not only produces fresh vegetables for the food bank, it also offers an opportunity to invite clients to work their own plots. This provides opportunities to develop relationships with the gardeners while enabling those families to supplement their tight budgets with homegrown produce.
NEW FOCUS
Hundreds of churches around the country have recast their traditional benevolence programs into a model called New Focus. In this initiative, church volunteers run a weekly evening supper and teaching program. The church invites supplicants calling the church for financial aid to enroll in the New Focus program. Through it they attend the weekly meeting with their children. They enjoy a free supper. Afterward, the kids attend a Bible club while the parents receive teaching on budgeting. Parents, working with trained budget counselors from the church, set their own goals for making small steps to change habits that can increase their savings and decrease their expenses. The church uses benevolence funds to provide practical rewards (e.g., grocery store gift cards, family-sized boxes of laundry detergent) for those meeting their goals each week.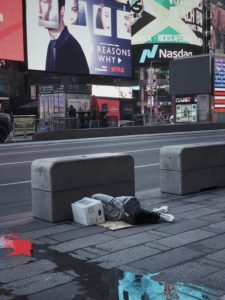 The church then invites participants who complete the first several weeks of the budgeting course to join a Friendship Circle — adults from the congregation who gather to support one another in prayer, fellowship, and mutual service. The Friendship Circle does not focus on helping only the New Focus member. Instead, in any given week, the New Focus member might receive aid, or be a contributor to another's need, such as pitching in to paint a fellow Circle member's kitchen. This gives legitimacy to the idea of the Circle being about mutual aid, and protects the dignity of the New Focus members by treating them not as objects of charity but as subjects who have their own gifts to offer to serve others.
The program has proven remarkably effective. As a New Focus coordinator in Minnesota reports: "We teach people to live below their means, because the [New Focus] program's typical client is someone in survival mode whose finances and credit status are totally out of control. We are not in the business of paying your rent and saying good luck. We measure success objectively by people's debt reductions, and subjectively by weekly self-assessments over 18 weeks. Through a group of 12 community churches over 5 years, more than 100 families, totaling 276 individuals, have been impacted."
The New Focus model requires significant effort and manpower, and may be beyond the capacity of congregations with fewer than 150 members (though small congregations could join with other churches to run a joint New Focus initiative). But churches of any size can serve the poor in their communities more effectively by moving from commodities to relationships. The key lies in redirecting the stewardship of the church's financial and human capital. (See sidebar "Mentoring Best Practices.")
ENGLISH AS A SECOND LANGUAGE
If the church has an established community benevolence fund, it can redirect that money in a number of ways. For example, the church could use their resources to underwrite some kind of modest outreach program that simultaneously offers practical teaching to community members while affording a platform for building relationships with program participants. A once-a-week evening English as a Second Language class is a good example.
Step one involves establishing a small leadership committee to oversee the program. To recruit participants, committee members can make contacts at schools and libraries to alert them to the new program. They can also post fliers at food banks, thrift stores, and temporary agencies that deploy day laborers. If no one at the church has the skills or experience to serve as teacher, the committee can turn to community agencies. The church can recruit potential instructors through contacts with the United Way office, a nonprofit serving immigrants/refugees, a community college, or the county cooperative extension office. (A national directory of cooperative extensive offices is accessible online at http://www.csrees.usda.gov/Extension/.)
Once a program is running, ESL teachers and tutors will start getting to know the participants. After some weeks, program leaders can make announcements about additional ways the church would like to welcome its students. The church can invite ESL participants to church services or picnics. They can also inform ESL participants about other activities at the church, such as marriage or parenting seminars or Vacation Bible School. If such activities cost money, the church can offer scholarships for ESL members to attend.
Consider setting aside a portion of benevolence funds to address an ESL participant's financial needs. The church would not need to advertise this; but, if an ESL student shared a particular need with his tutor, the tutor could inform church leaders. Benevolence monies subsequently invested will have a greater likelihood of accomplishing good, since the ESL participant is in ongoing contact with church members.
Congregations can even set up this kind of aid as a no-interest loan the participant repays over a period of time, to make funds available for another family in need. Friends of mine with experience in ministering among Hispanic families note that this is often a successful approach, since the recipients want a hand up more than a hand out.
Programs like ESL make possible the cultivation of genuine relationships with the participants. At a Park Cities, Texas, congregation, ESL teacher Jessica Young reports that students eager to practice their English skills are attending Bible studies at the church. In addition, she has gone into students' homes to provide extra tutoring. This has deepened her friendships. During one home visit she was able to pray with a distraught student whose son had been told he would need to repeat 2nd grade.
JOBS FOR LIFE
Jobs for Life is a church-based outreach to unemployed individuals in the community. Like an ESL program, it creates a platform for offering practical teaching (in this case, biblically based life skills coupled with soft job skills) and genuine relationships. This ministry offers classes twice weekly for 12 weeks, using a preset curriculum from the national Jobs for Life headquarters (www.JobsforLife.org). Nearly 200 congregations and Christian nonprofits nationwide have implemented Jobs for Life. The biblically based curriculum and relationships between participants and mentors have led to significant numbers of conversions. The ministry also has a solid track record of good results in helping graduates find and keep jobs. A single congregation can operate the program, though often churches collaborate together. Sometimes this involves unique partnerships between urban and suburban congregations, each of which brings strengths to the table.
INDIVIDUAL DEVELOPMENT ACCOUNTS
Another possibility for creative redirection of the church's mercy funds involves setting up an Individual Development Accounts ministry. An IDA is a matched savings account. A church can establish a modest program, inviting a handful or more adults into a financial literacy program. Participants set aside a small amount of money each week, and the church matches that amount (1-to-1, 2-to-1, or at whatever ratio the program leaders determine). Typically, program participants must agree to stay involved for a specified length of time (e.g., 12 to 24 months), and they can only use their savings for restricted purposes, such as a down payment on a home or seed capital for a new small business venture. The Chalmers Center for Economic Development is now offering free technical assistance to enable churches of any size to launch new IDA programs. (For more information, visit http://www.chalmers.org/ida_pgm/ida.php).
THE IMPORTANCE OF STRUCTURE
Some readers may feel uncomfortable with how often the word program has appeared thus far. As believers, we rightly have an inclination to want to be about people, not about programs. But in the absence of a structure, real relationships between congregants and needy families in the community rarely happen. The sad truth: Many in our communities are fairly segregated by race or class — or both. Many church members do not naturally cross paths with low-income residents. Preachers talk about congregants going out and loving their neighbors in need, but few congregants know how to jumpstart such a relationship.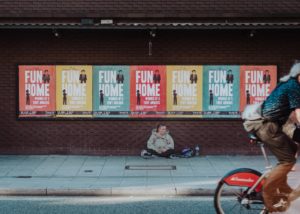 The programs noted above offer an avenue for connecting congregants and community members in a directed relationship. The ultimate goal is to befriend the poor. But if we simply enjoin congregants to do that, they get stymied. They wonder, How do I start a relationship with a poor person? And once I'm in it, what am I supposed to do? We would not need programs if church members were naturally befriending the people in the community who are outside the church and struggling in poverty. Usually, though, such friendships are not naturally occurring.
ESL, Jobs for Life, and IDA ministries are practical solutions to this dilemma. They offer people in need help that truly helps. They attract participants who want to improve their situations. Program volunteers begin their relationship with participants through defined roles: teach this class, tutor this student, attend these meetings, cheerlead this participant. This affords them time to get acquainted with participants. And as time passes, a less structured and more natural relationship grows. Volunteers and participants discover they are not as different from one another as they might initially have thought.
Volunteers who enter the ministry thinking they are there to give discover, in fact, they are receiving much. Meanwhile, program participants receive friendly emotional and spiritual support as they work hard to acquire new skills that can set them on a more stable path.
VOCATIONAL STEWARDSHIP
Finally, in considering how to strengthen the effectiveness of their community outreach, church leaders should not only reconsider how to best steward the congregation's financial resources. They also need to be more strategic about deploying the vocational talents of their members. A congregation with many blue-collar tradesmen, for example, might consider launching a car or home repair ministry. One with numerous educators could consider reaching out to low-income students from a nearby elementary school.
Or, imagine a large congregation with numerous professionals in the pews. Let's compare two possible strategies for serving its city. First, the church can partner with the local homeless shelter in providing the manpower to provide dinner once a month. Alternatively, it can encourage launching vocationally based small groups with the mandate to brainstorm how they can deploy their particular vocational skills and networks to help address poverty locally.
In the first instance, the church treats its bankers, doctors, accountants, lawyers, and business owners generically — as bodies that can ladle soup. In the latter approach, the church challenges these same congregants to think creatively about how to use the unique gifts God has given them to bring a greater taste of shalom to the community.
Bankers might brainstorm on how to create a workable alternative to predatory payday lenders. Lawyers might start a small legal-aid clinic. Accountants can offer to file tax returns for free for the working poor. Doctors can commit to taking on, pro bono, five patients who lack health insurance. Businessmen can agree to mentor promising entrepreneurs from the inner city.
Lest you wonder if these are pipe dreams, they are not. Churches in Pittsburgh, Raleigh, Ashville, and Atlanta are doing exactly these things.
We can do better than we have in serving the poor in our communities. It is time to move from reactive, commodity-based benevolence to the kinds of relational, holistic strategies that can truly bless our neighbors.